Tanzania National Parks offer a lot to the adventure safari lovers, probably more than any other destination in Africa. Tanzania has set aside 40% of it's land for fauna and flora conservation. Northern Tanzania in particular, is one of the most inspiring Safari circuits in Africa with breathtaking scenery, lush vegetation, vast and stunning Savannah with exotic wildlife diversity and abundance.
Places of Interest
Click on a place of interest in the list below to learn more.
Walking Safari in Lake Manyara (Hiking Escape)
On Foot at Lake Manyara
Walking Safari in Lake Manyara National Park provides an opportunity to
stretch and explore nature
at your finger tips. The Armed Ranger who guides this walk will take you across the
ground water forest
which is home to varieties of wildlife including
Blue monkeys, Vervet monkeys, baboons, waterbuck, and bushbucks
to mention a few.
Forest
and
woodland birds
can also be seen on foot. The trail along the lake will also provide a chance to see large
flocks of flamingos, herds of giraffes, cape buffaloes
and
impalas
. This is a unique opportunity to explore nature closely outside of the vehicle.
Mara River Area
The Mara River
The Mara River basin covers a good size area in the Serengeti Mara Ecosystem. Mara River flows approximately 180 miles and it drains into Lake Victoria which is the largest Lake in Africa. During the end of July through the beginning of August, expanse herds of migrating wildebeest are normally heading north back to Maasai Mara Game Reserve in Kenya and one of the rivers they cross is Mara River. Thousands of guests come from all over the world to watch these movements and crossings. Around September, herds will migrate back south in Serengeti in Tanzania and cross the Mara River again. Large crocodiles take advantage of these crossings and make for themselves easy food.
[learn more]
Nature Walk (adjacent Lake Manyara)
Nature Walk (adjacent Lake Manyara)
You will get an opportunity to explore on foot guided by a Maasai Guide, the expanse grassy floodplain and its expansive views eastward, adjacent the alkaline Lake Manyara. Depending on the time of the year, you may see
flamingos
on the lake shore.
Wildebeest
and
zebra herds
congregate on these grassy plains, as do
giraffes, impalas, ostriches, warthogs
and
reedbucks
. You will learn a lot about
Maasai Medicinal plants
and
small creatures
that can't be seen easily on a normal game drive.
Nature Walking Highlands Forest Ngorongoro
Hiking Ngorongoro Highlands Forest
Nature walking in the Highlands Forest of Ngorongoro Conservation Area provides an opportunity to stretch and explore nature at your fingertips. The highlands forest is a vital source of water for wildlife in the Crater and the surrounding village areas. Hiking and nature walking in the pristine northern highlands forest reserve offer the opportunity to explore the nature closely outside of the vehicle. The interested attractions within the Ngorongoro pristine forest trail include the
Elephant Caves
and
Endoro Waterfalls
.
[learn more]
Olduvai Gorge Museum
Laetoli and Olduvai Gorge Museum
Laetoli is found west of Ngorongoro Crater. It is here where hominid footprints are preserved in volcanic rock 3.6 million years old and represent some of the earliest signs of mankind in the world. Excavation, mainly by the archaeologists Louis and Mary Leakey, yielded four different kinds of hominid, showing a gradual increase in brain size and in the complexity of their stone tools. The first skull of Zinjanthropus, commonly known as the "Nutcracker Man", who lived about 1.75 million years ago was found here.
[learn more]
A Hike Down to the Zinj Site
A Hike Down to the Zinj Site
Oldupai Gorge is the world well known "Cradle of Mankind" where the most famous of the early human fossils
Australopithecus boisei
was found by Dr.Louis and Mary Leakey. It is a nearly complete cranium of an adult male; the fossil is still referred to today as "Zinj", in reference to its original name,
Zinjanthropus boisei.
[learn more]
The Great Rift Valley
The Great Rift Valley
The East African Rift System (EARS) is one the geologic wonders of the world, a place where the earth's tectonic forces are presently trying to create new plates by splitting apart old ones. In simple terms, a rift can be thought of as a fracture in the earth's surface that widens over time, or more technically, as an elongate basin bounded by opposed steeply dipping normal faults.
[learn more]
The Great Migration
The Great Migration
Each year around the same time, the circular great wildebeest migration begins in the Ngorongoro Conservation Area of the southern Serengeti in Tanzania. This migration is a natural phenomenon determined by the availability of grazing.
[learn more]
Local Culture
Click on a cultural destination in the list below to learn more.
Coffee Plantation and Garden Walk
Coffee Plantation and Garden Walk
This guided garden walk gives our travelers an opportunity to learn many facts about how coffee is grown in Tanzania, as well as visiting an organic garden to observe how different vegetables are grown here.
Datoga People
The Datoga People
Datoga tribe are originally from Southern Sudan and Western Ethiopia. They are believed to have moved in Central Tanzania Area probably about 3000 years ago. They also live in the Arid Area near Mt.Hanang in North Central Tanzania. In Lake Eyasi basin they moved in about 150 years ago to look for better grazing land. They are semi-nomadic people mostly depending on livestock keeping, small scale farming as well as using their blacksmith skills to make a living. Maasai people call them Mang'ati which means respected Enemy.
[learn more]
Farmers Market
Farmers Market
This is a stop where our guests can visit a local Farmers Market to see different local produce that are being sold.
"Hunter Gatherers" Hadzabe People
The Hadzabe People
The Hadzabe people or Tindiga is the only Hunter Gatherers tribe that live in Lake Eyasi Basin adjacent Ngorongoro Conservation Area in Northern Tanzania. They are believed to be the descendant of the South Africa click speakers Bush Men. They neither grow crops nor raise livestock. Their living depends on hunting, collecting fruits and digging for roots. Their life style has not changed over the last several hundred years.
[learn more]
Iraqw Tribe
Iraqw Tribe
Originally the Iraqw Tribe immigrated from Ethiopia and are locally known for their farming and small-scale pastoralism. They are a community that dwells just outside Ngorongoro Conservation Area.
[learn more]
Lake Victoria
Lake Victoria
Lake Victoria is the largest lake in Africa and the second largest freshwater lake in the world. It is a spectacular place for our guests to experience a local fishing village as well as enjoy an hour of canoeing.
[learn more]
Maasai Village
Maasai Village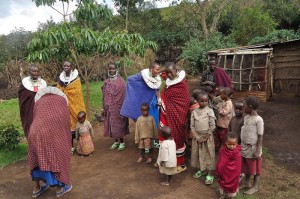 The traditional Maasai Village is called a Manyata. This is where different Maasai families live with their livestock. The Livestock live in the middle of thick Acacia thorny fences that protect them from any possible predator attacks. The visit to these villages give guests an opportunity to learn the lifestyle of Maasai people including their culture and tradition.
[learn more]
Makonde Tribe
The Makonde Tribe
The Makonde tribe originally migrated north from Mozambique to the southern part of Tanzania. Located on the Makonde Plateau, they have traditionally been somewhat isolated and thus remained largely unaffected by colonial and postcolonial development. The Makonde have a reputation for cultural conservatism and a desire to defend both their territory and their way of life. They represent a strong figurative art through their authentic carvings that represent life, love and working together. Their best carving work is made out of the Ebony tree. The Makonde people along with Kamba people of Kenya are the only two tribes in East Africa that have the carving skill.
[learn more]
Village Walk
Village Walk
The village walk enables travelers to experience some local culture, people life and their respective activities. This may include visiting a School, Hospital, local Brick Making Centre, a Church, and more.